Newsletter Archives
Catch up on the latest in family history with these articles from GenealogyBank News
November 2021 Newsletter
---
Past Issue Archive
Select the month and year below
---
FREE Newsletter!
Get online search tips, exclusive offers and other helpful information to aid your genealogy research.
Native American Newspapers: The 'Cherokee Advocate'
Introduction: In this article, Gena Philibert-Ortega writes about an important newspaper in Native American – and U.S. – history: the "Cherokee Advocate." Gena is a genealogist and author of the book "From the Family Kitchen."
It's no surprise that newspapers help family historians learn more about the people within a community. Obviously when we search newspaper collections, we hope for a personal mention of an ancestor – but even in the absence of that personal mention, a newspaper can shed light on our ancestor's time and place. Newspapers for a community can provide us with much needed historical context that in turn helps us do better genealogical research.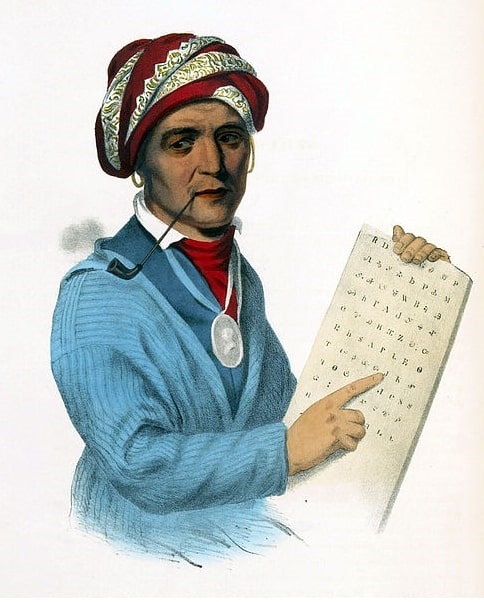 Do you have Native American roots? The first Native American newspaper was the Cherokee Phoenix, first published on 21 February 1828. Written in both Cherokee and English, that first issue included the Cherokee constitution, as well as general interest and opinion articles. (1) To produce the Cherokee-language articles, the newspaper used the syllabary developed by Sequoyah in 1821.
Other Native American newspapers followed and included personal information as well as articles of interest to various tribal communities.
GenealogyBank's Historical Newspaper Archives include Native American newspapers. Titles include:
Cherokee Phoenix (New Town, Georgia) (1828-1834)
Cherokee Advocate (Tahlequah, Oklahoma) (1871–1897)
Gallup Independent (Gallup, New Mexico) Obituaries (2007–Current)
Herald and News (Klamath Falls, Oregon) Obituaries (2000–Current)
Lake County Leader & Advertiser (Polson, Montana) Obituaries (2008–Current)
Native American Times (Tulsa, Oklahoma) Obituaries (2009–Current)
Navajo Times (Window Rock, Arizona) Obituaries (2009–Current)
Nome Nugget (Nome, Alaska) Obituaries (2011–Current)
Skagit Valley Herald (Mount Vernon, Washington) Obituaries (2006–Current)
Yakima Herald-Republic (Yakima, Washington) Obituaries (1997–Current)
Cherokee Advocate
The Cherokee Advocate was the successor of the Cherokee Phoenix mentioned above. Published intermittently from 1844-1906, the newspaper's motto was "Our Rights, Our Country, Our Race." (2) Like the Phoenix, the Advocate was printed in both English and Cherokee.
What can you expect to find in the Cherokee Advocate newspaper? This four-page example from 27 May 1893 gives a sense of what information the newspaper provided to the community.
Page 1
The front page of the newspaper includes advertisements for everything from attorneys to groceries to published guides to the World's Fair and Chicago.
One of my favorite articles on this page is a small one with an illustration of a cow and a horse describing the brands of R. N. Crafton.
Newspapers print articles of general interest to their community and beyond, and this edition of the Cherokee Advocate is no different. One article provides names of prisoners who escaped the National Prison. Other newspaper articles on this page would have been of interest to those living in the Tahlequah Cherokee Nation, including the contract for the Cherokee Strip and Cherokee bonds.
Page 2
Page 2 includes opinion pieces and letters to the editor as well as community news. These short blurbs include the kinds of information we expect to see in "gossip columns" reporting on what community members are doing, including those who are sick, traveling, and local arrests.
Notice that at the bottom of the 4th column there is a Census Takers Notice informing readers that they will be enrolling "the names of all citizens of blood and adoption."
Page 3
While most of the Cherokee Advocate is in English with a few sentences in Cherokee here and there, page 3 is mostly in the Cherokee language.
In the lower-right hand corner is a tutorial in English for the Cherokee alphabet and its sounds.
Page 4
The back page of the newspaper includes advertisements, articles, lists of those who have letters at the post office, stray animals, legal notices (including probate) and sales of animals.
This page is especially rich in names of local community members.
Learning More by Reading Native American Newspapers
The Advocate published English and Cherokee articles that "reported the actions and policies of the Cherokee government, laws, memorials, and protests to the U.S. Congress, proceedings of the national council and negotiations with Washington, messages of the principal chiefs, missionary activities and temperance campaigns, notices of estate administration; and other local news." (3) Genealogically rich articles tell the story of illnesses, deaths, legal actions, and the everyday activities of a community.
Exploring the pages of the Cherokee Advocate is a good reminder of the importance of ethnic and foreign language newspapers to our family history research.
________________
(1) "Native American Newspapers: Studying the History through the Eyes of the Community," Teaching with the Library of Congress (https://blogs.loc.gov/teachers/2018/11/native-american-newspapers-studying-the-history-through-the-eyes-of-the-community/#:~:text=Many%20may%20be%20surprised%20to,Cherokee%20and%20partly%20in%20English.&text=Choose%20a%20newspaper%20and%20read%20one%20of%20the%20issues.: accessed 23 November 2020).
(2) "Cherokee Advocate," Oklahoma Historical Society (https://www.okhistory.org/publications/enc/entry.php?entry=CH016: accessed 23 November 2020).
(3) Ibid.