Newsletter Archives
Catch up on the latest in family history with these articles from GenealogyBank News
January 2022 Newsletter
---
Past Issue Archive
Select the month and year below
---
FREE Newsletter!
Get online search tips, exclusive offers and other helpful information to aid your genealogy research.
Betty White: A Recipe for Life
Introduction: In this article – in honor of the beloved actress Betty White, who died Friday just 17 days shy of her 100th birthday – Gena Philibert-Ortega searches old newspapers to learn more about Betty. Gena is a genealogist and author of the book "From the Family Kitchen."
It's inevitable that when you reach an advanced age, everyone wants to know your secret. In an interview for her anticipated 100th birthday, Betty White said that she avoided eating anything green. (1)
A previous 2010 interview discussed her daily menus consisting of meat and potatoes (French fries every day) along with a vegetable and salad. Whatever her food secret was, her longevity showed it worked.
This paragraph in particular was revealing – and humorous:
Betty White is remembered for her numerous television roles, including her Mary Tyler Moore show role hosting a homemaker show on the fictional WJM-TV. Besides her fictional food show, I wondered if Betty had any other connections to food in the media. Looking into GenealogyBank's Historical Newspaper Archives gave me some answers.
Coffee, Potato Chips, and More
Betty White appeared as a spokesperson for numerous products during her career. One such product was Luzianne Coffee.
The beverage company began in 1902 and grew to sell coffee and tea. In 1960s newspaper advertisements, White not only bragged about the flavor of the coffee but provided her own "recipe" which was simply to use half as much of the coffee because that was all that was needed.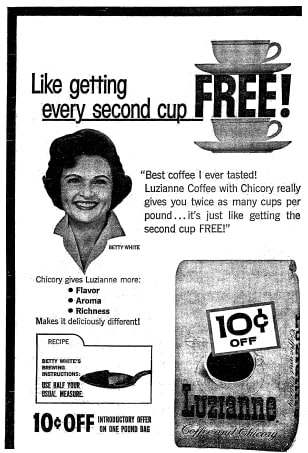 Luzianne Coffee wasn't the only food product she pitched. This Chipnics potato chip advertisement from 1966 includes her holding not only the package of chips but a few in her hand (presumably so consumers could see what they looked like, since they were first introduced just two years before, in 1964). Interestingly enough, the advertisement admits that consumers did not like their chips at first – so they made changes to the flavor. These homogenized chips were similar to Pringles, a later competitor, and were sold in a box.
Food companies used Betty and her likeness for recipe cards and recipe booklets, including this one for Danola ham that encourages readers to write to Betty so that she can mail one to you immediately.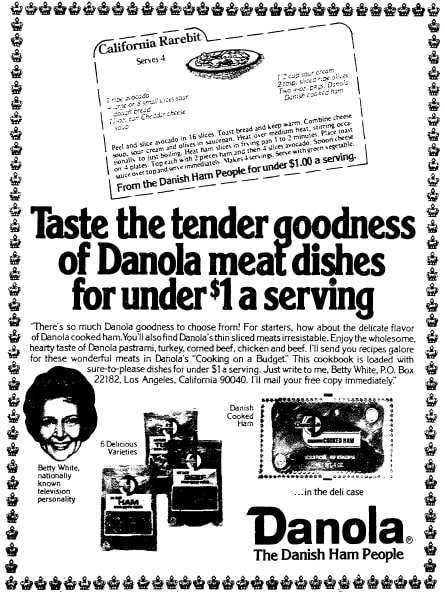 Betty White, Homemaker?
Although she played a homemaker on TV, a 1974 interview about her role on the Mary Tyler Moore show called her an "indifferent cook," and provided an example of making a meat loaf for dogs that was less than appealing to actress and cookbook author Dinah Shores' dogs.
Betty: A Life That Was More than a Recipe
Although Betty White was the host of a fictional "Happy Homemaker" show and her name and image were used in food marketing campaigns, she became an American icon because she was so much more. In a 1954 interview about her new television talk show, she said American women were interested in far more than soap operas and cooking programs:
"Those shows are fine, too, but women are interested in everything. And it's unfair to think that daytime television has to be limited to dull homebody shows and giveaways."
Betty exemplified that. She had a wicked sense of humor, she was passionate about various causes including animal rights, and had served her country during World War II in the American Woman's Voluntary Services. (2) And she enjoyed French fries.
I'll leave you with this anecdote about Betty.
_________________
(1) "Betty White Says the Key to Her Diet Is 'to Avoid Anything Green'," Food + Wine (https://www.foodandwine.com/news/betty-white-says-key-to-diet-is-avoid-anything-green: accessed 2 January 2022).
(2) "US Army Pays Tribute to Betty White's World War II Volunteer Service," Military.com (https://www.military.com/daily-news/2022/01/01/us-army-pays-tribute-betty-whites-world-war-ii-volunteer-service.htmlL: accessed 2 January 2022).