Newsletter Archives
Catch up on the latest in family history with these articles from GenealogyBank News
June 2020 Newsletter
---
Past Issue Archive
Select the month and year below
---
FREE Newsletter!
Get online search tips, exclusive offers and other helpful information to aid your genealogy research.
Mayflower's Billington Brothers: America's 1st Juvenile Delinquents?
Introduction: In this article – to celebrate 2020 being the 400th anniversary of the arrival of the Mayflower – Melissa Davenport Berry tells a wild story about two of the youngest passengers onboard that famous ship. Melissa is a genealogist who has a blog, AnceStory Archives, and a Facebook group, New England Family Genealogy and History.
This is the year of the Mayflower – and here is a little history about two of the youngsters who traveled to Plymouth's shores. All in good humor!
In 1959 the witty reporter Hugh A. Mulligan gave readers across the country a humorous account of two young Mayflower passengers: John Jr. and Francis Billington. The story seemed fitting for the season as Thanksgiving was just around the corner.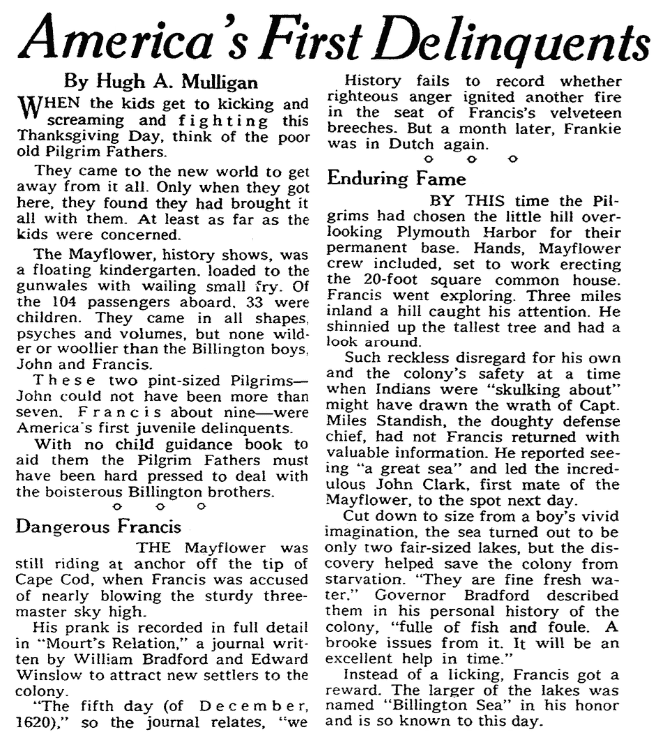 According to Mulligan:
"The Mayflower, history shows, was a floating kindergarten, loaded to the gunwales with wailing small fry. Of the 104 passengers aboard, 33 were children. They came in all shapes, psyches and volumes, but none wilder or woolier than the Billington boys, John and Francis."
Mulligan claimed "these two pint-sized Pilgrims… were America's first juvenile delinquents." Their antics must have taxed the nerves of every tired Pilgrim.
Even before the Mayflower landed ashore, Francis Billington almost blew up the ship and her crew! Mulligan recalled the incident from Mourt's Relation, a journal written by William Bradford and Edward Winslow:
"The fifth day [of December, 1620] we through God's mercy escaped a great danger by the foolishness of a boy, one Francis of Billington's sonnes, who in his father's absence had got gun powder and shot off a piece [musket] or two and made squibs [small fireworks], and there being a fowling piece charged in his father's cabbin, shot her off in the cabbin. There being a little barrell of [gun] powder halfe full scattered in and about the cabbin, the fire [discharge] being within foure foote of the bed [bunk] betweene decks and many flints and iron things about and so many people about the fire. And yet by God's mercy no harme was done."
Within a few months brother John Billington Jr. showed up in the journal as missing in action. As Mulligan reported:
"'About the latter end of this month (April, 1621),' Bradford wrote, 'one John Billington lost himself in the woodes and wandered up and downe some five days, living on berries and what he could finde.'"
The event created chaos and an aggravated Miles Standish (we can only assume this was not the first stunt pulled by little John) rounded up 10 men to locate the lost boy. John was found about 50 miles away from the Pilgrim settlement. He had been taken by the Nauset tribe of Cape Cod, and that posed a problem due to prior skirmishes over some ransacked corn taken by Pilgrim hunting parties.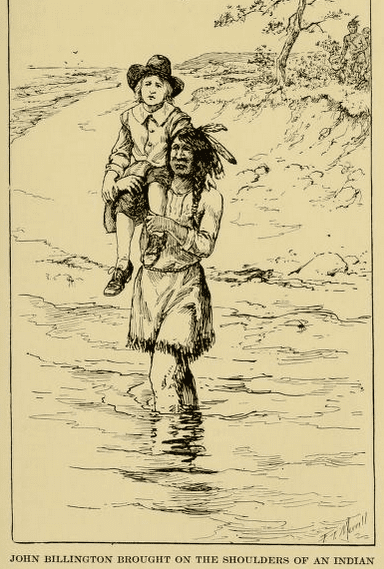 Bradford stepped in and resolved the conflict. He promised to make good on the stolen corn and Chief Aspinet handed over John: "behung with beads and made his peace with us" (from Bradford's journal). The whole ordeal must have roused them all, but John was saved – and as Mulligan speculated: "Perhaps the chief was glad to get the lad off his hands."
Mulligan mentioned that juvenile behavior is an offshoot of parental delinquency. Yes, the apple does not fall far from the tree – which brings on the next story.
In an article published in the Richmond Times Dispatch in 1979, journalist Bill Ryan recorded his visit to Plymouth Plantation. We have more on the Billington's, but this time it sheds light on the parents John Sr. and Eleanor "Nell" Bellington. All fault could not be pinned on the little tikes.
In his article, Ryan noted that children's books portray the Plymouth Pilgrims as bland, dull, and pious – but he asserts that they were anything but. He saw the plantation members as a mixed potpourri of humanity. Just like today, some were more pious than others, but as Ryan noted:
"The Billingtons were not the kind of next-door neighbors you wanted in any century."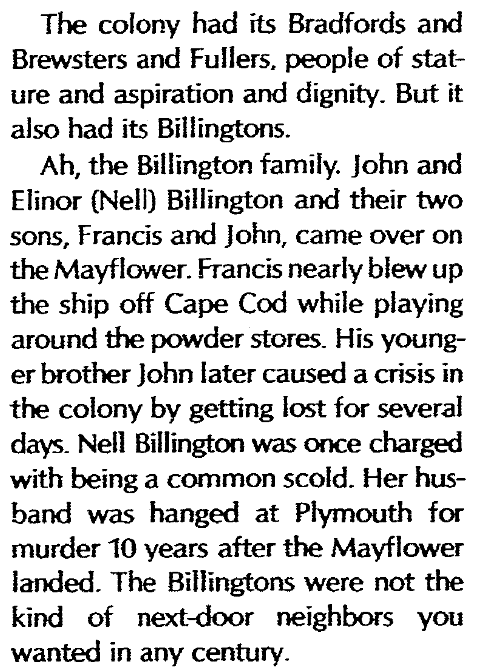 Ryan reported that Nell was charged with being a common scold, but her husband topped her (and sons) in the criminal department. The Bellington boys were the first juveniles, but Daddy Billington was the first among the adults to commit murder. He was hanged 10 years after the Mayflower landed.
There are debates on how the squabble went down between him and his victim John Newcomen; you can find more information in the sources listed below.
Despite the bad rap on the first Billington line to come to America, the family can boast of famous kin, including celebrities, a United States president, and an Apollo astronaut. Among these figures are Richard Gere, John Lithgrow, Taylor Swift, Alfred Wordon, James Garfield, and Wilson brothers Brian, Dennis, and Carl of the Beach Boys.
Check out GenealogyBank's Historical Newspaper Archives to learn more about your Mayflower ancestors, and I would love to hear from BELLINGTON descendants!
Thanks to Libby Needham of Descendants of the Mayflower
Sources and Further Reading: